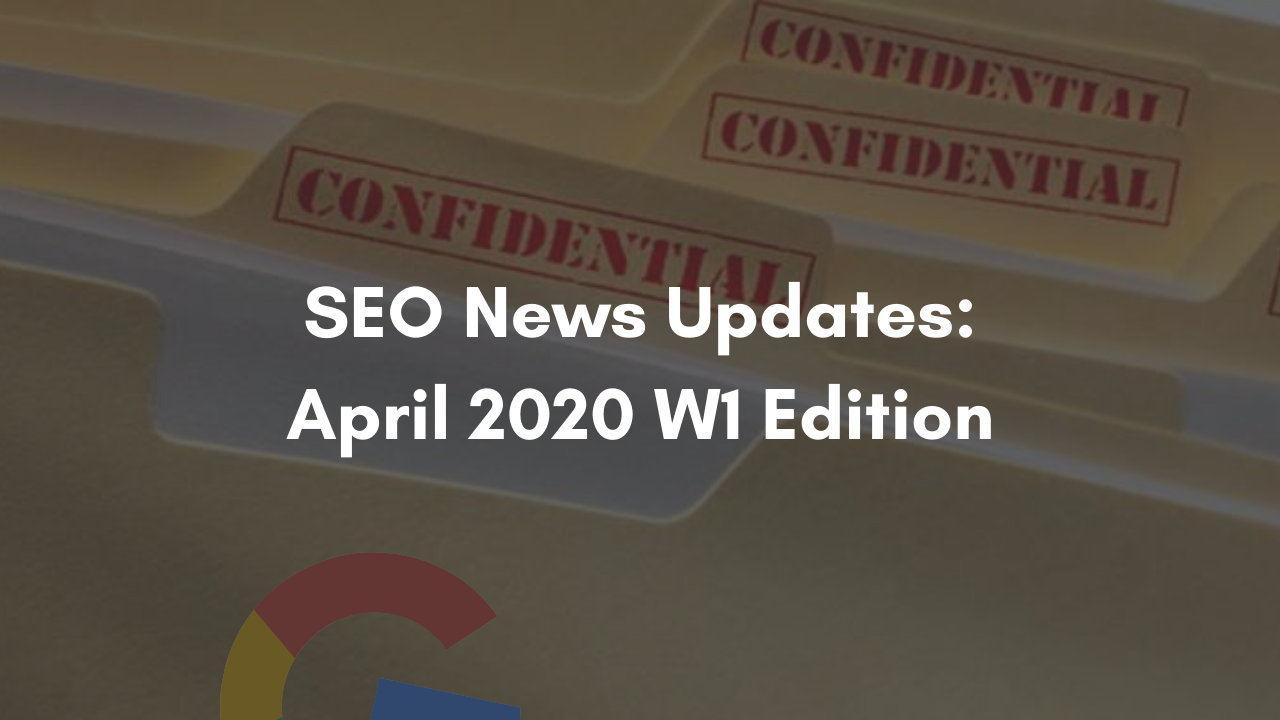 Hi, SEO peeps and welcome to another week of SEO updates!
This week we will keep you updated on the recent search news on coronavirus, as well as spill the tea on a piece of interesting news related to Google algorithms.
Without further ado, let's dive into it.
7/4/2020 – Google Answers Does Search Behavior Changes Influence of Overall Ranking
This week there was still significant chatter within the SEO community on the fluctuations of overall rankings.
Marie Haynes posted a question to her Twitter asking businesses if they see a significant change in their Google organic traffic as compared to the previous week.
Almost half of the respondents reported that they were seeing less search traffic as compared to the prior week.
However, it was believed that most sites are seeing this sudden change in traffic patterns due to the unprecedented times, and not caused by a search algorithm update.
This was also confirmed by John Mueller when someone asked him if "these wild changes in search behavior could affect keyword rankings?"
…to which John Mueller answered that:
Google is always seeing user behavior shifts with events like the Oscars or Grammy. Yes, the coronavirus pandemic might be bigger and longer than most but the algorithms hve watch for these shifts all the time.
To our understanding, Google doesn't specifically change keyword rankings based on current events.
However, Google algorithm is influenced by the user's behavior as they search, to work to determine which results are the most helpful and to put those sites before others.
As such, if your keyword rankings have changed recently, it may not be due to a Google update, but rather, due to Google still figuring out which sites are now the most helpful to users at this time. To solidify your ranking, it's best advised that you create your content around your user experience.
If you are interested in the full explanation from John Mueller, watch this video to learn more.
8/4/2020 – Google Publish Case Studies Series Aim to Show the Importance of Investing in SEO
Google has started a new series on the Google Webmaster Blog for SEO case studies and success stories.
Written in the blog, this series is aimed at "convincing a boss' boss that investing in SEO or implementing structured data can be good for the business."
Their first case study in the series features a company named Saramin that does job posting recommendation, company and salary information using SEO to achieve a 93% increase in the number of new sign-ups and a 9% increase in the conversion.
What the company implemented was applicable structured data, starting with Job Posting, Breadcrumb, and Estimated salary. The company also improved its websites by checking their URLs on the Structured Data Testing Tool, Mobile-Friendly Test, AMP Test, and PageSpeed Insight to provide a better experience for users.
However, what most SEOs were concerned of, is if the case study is using Google nofollowed links in which Gary Illyes replied.

8/4/2020 – Google Adds Search COVID SpecialAnnouncement Markups
Google has introduced a brand new set of structured data markup for special announcements related to COVID-19.
When the new special announcement structured data is added to the page, the content becomes eligible to appear with a COVID-19 special announcement rich results.
The COVID-19 announcement rich results will contain a short summary that can be expanded to view more.
Here's what it will look like:
Danny Sullivan from Google also clarified that any site is able to use the SpecialAnnouncement structured data on their websites, assuming that it is used for COVID-19 or related content.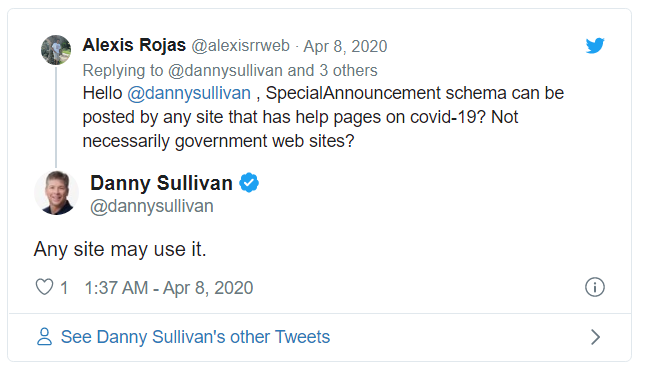 To implement it, you can refer to the link below:
https://developers.google.com/search/docs/data-types/special-announcements
Note: Although the rich results are still being rolled out, Google said it is still actively developing this feature.
2/4/2020 – People Search Visually in Google Images, but They Might Not Actually Be Looking for Images
John Mueller from Google said in a Tweet recently that many people who are using Google Images to search visually are not actually looking for images, but something else.
Mueller points out that people might be uploading images or photos to Google Images to find answers in the content surrounding the image.
Here's the actual tweet.
3/4/2020 – Google Giving Up Ranking Algorithm Secrets to SEO?
There was an interesting story in the Register that discussed the case unfolding in Britain over whether Google wrongly demoted price comparison rival Foundem from its search results in favor of paid-for adverts.
This lawsuit apparently was filed back in 2012 and has recently come to a standstill when Foundem asked for legal permission to bring in an independent SEO expert Philipp Klöckner to read confidential documents disclosed by the court.
These documents were court exhibits filed by Google engineers to explain the operations and aims of Google's ranking algorithms, and how they have been applied to shopping comparison sites.
While not disrupting this, the search engine mammoth strongly objected to Klöckner because he is a working SEO consultant and noted that:
The integrity of Google's ranking processes relies upon all webmasters or website owners having the same degree of access to information about Google's ranking… This will no longer be the case if information of this kind is made available to some individuals offering commercial services to assist companies to improve their Search ranking.
Foundem suggested Google could also simply withdraw the evidence so nobody would need to read it, but Google insisted the evidence was important to help prove its case.
In the end, high court judge Justice Roth gave Google a choice. Either it could withdraw the evidence as Foundem suggested or it could agree to let Klöckner read the algorithm papers.
"If Google maintains its present course, then for the reasons I have explained I will grant the application that Mr Klöckner be admitted to those two rings until further order," said the judge, ruling that he would give Google "reasonable time" to figure out its answer.
We will be following this case to see how it unfolds, but until next week, stay safe and stay strong, everyone!
Also, comment down below: "What decision do you think Google will take?"
Updated: 13 September 2021